PGT ClassicVue Max™ Aluminum Premium Sliding Glass Door Installation
SKU: SGD680
Your house will eternally be full of light with this stunner Aluminum Premium Sliding Glass Door. This door is showcased in our ClassicVue Max collection. ClassicVue Max collection brings to you Aluminum Premium Sliding Glass Door. The door has one or more panels that move horizontally along the upper and lower tracks. It comes with a French-Door look which means having a standard 4" bottom rail, optional 9" bottom rail, added security by restricting panels from being lifted off the tracks and heavy-duty tandem rollers. It allows easy opening with just your fingertips. This door possesses unique and stylish handle options and standard or box screen. For uninterrupted views and a vibrant source of natural light, the doors possess Expansions of up to 40'. The maximum panel size offered by the door is 5'w x 8'h or 4'w x 10'h. Whereas, Maximum overall opening size is 40'w x 8'h or 32'w x 10'h. Standard glass options are laminated-insulating glass and tempered glass.
Options & Accessories
Configurations
By-pass or pocket door 1 to 8 panels 90-degree corner Inside or outside corner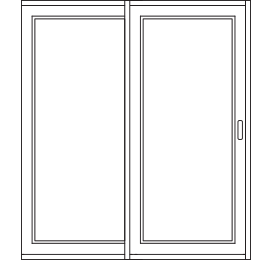 Sliding Glass Door
Frame Colors

White

Bronze
(Standard)
Custom frame colors are also available. Color swatches are for reference only. Ask your dealer about final color matching.
Product Option
Thermal Enhancements
Argon Gas
High Performance Low-E
Screen Types
1816 Charcoal or Gray
2020 Screen mesh
Premium Glass Options
Insulating Glass
Privacy Glass
Grid Features
Flat Grid (GBG)
9/16" wide flat grid between the glass
Raised / Raised Ogee Grids
1" wide raised ogee applied to exterior
1" wide raised ogee applied to interior
Low Profile Simulated Divided Lite Grids
1" wide low profile ogee applied to exterior & interior
9/16" wide flat white grid between the glass
Grid Options
Door Grid Styles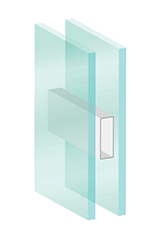 Flat Grid (GBG)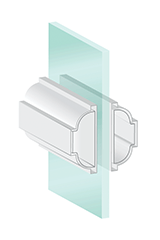 Raised / Raised Ogee Grids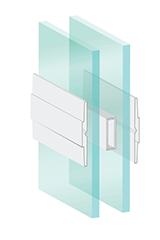 Low Profile Simulated Divided Lite Grids