Noise Reduction Windows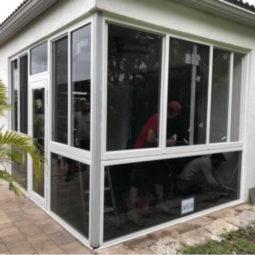 The Best Noise Reduction Windows
As a homeowner, you want to relax in your house without outside noise. We have the perfect solution for you with our
noise reduction windows
that are highly acclaimed by homeowners. In noisy areas, that's not always practicable. Good news: the noise is gone. Noise reduction windows dramatically minimize home noise.
Caner Impact Windows
offers a variety of noise-reducing windows to match your demands. Our windows are ideal for residences in noisy neighborhoods or near airports, train stations, or other noise sources due to their high-quality sound insulation. Our noise-reducing windows have two or more glass panes separated by gas or air. This space between glass panes blocks noise. Windows reduce noise better with thicker glass and broader gaps. Our windows include airtight seals and glass to block sound. This maximizes window noise reduction. Get the greatest noise-reduction windows. Caner Impact Windows strives towards excellence and client satisfaction.
Because every home is different, we offer customized
noise reduction window solutions
. We'll design and install windows that match your home's architecture and aesthetic. Our experts have designed and installed noise-reducing windows for years. We employ cutting-edge methods to install your windows correctly and reduce noise. High-quality products: Our noise-canceling windows employ only high-quality materials for optimal sound insulation. Our items are also long-lasting. Competitive pricing: Our windows are affordable because we believe everyone deserves peace and quiet at home. Peace and quiet are affordable. Caner Impact Windows offers excellent customer service. We're always here to help. We want you to love your noise-reducing windows.
Caner Impact Windows understands that noise pollution is a big issue for homes. Traffic, construction, and neighbors can disrupt your tranquility and quality of life. We offer high-quality noise reduction windows to reduce home noise. Our high-quality noise-reducing windows block outside sounds. They have insulated glass with a sound-dampening interlayer. Even in a noisy neighborhood, you can enjoy a quieter house. Energy-efficient noise reduction windows can lower your energy expenditures. They keep your home cooler in summer and warmer in winter, reducing your heating and cooling needs. This can reduce energy bills over time. Our elegant and energy-efficient windows reduce noise and look good. We provide many window styles to match your home's architecture and decor. Our windows suit classic and modern tastes.
Caner Impact Windows provides superior customer service and support. We help our clients choose the perfect windows for their needs and budget because home remodeling projects can be overwhelming. Our professionals will help you choose the proper windows, install them, and more. Contact us today to learn more about our noise reduction windows or other goods and services. Free consultations and estimates let you start your home renovation project with confidence. Caner Impact Windows create a calm, energy-efficient, and beautiful home environment quickly. A kitchen or bathroom remodel may make a tremendous impact on your home. Modern kitchens improve functionality and value. A remodeled bathroom can also improve your property. We undertake simple upgrades to major renovations at Caner Impact Windows. Our staff will produce a design that meets your goals and budget. Finally, upgrade your insulation to save energy. Proper insulation may keep your home cool in summer and warm in winter, lowering energy expenses and making it more comfortable. Caner Impact Windows offers spray foam, blown-in, and batt insulation.
Call for a FREE On-Site consultation now
!