PGT WinGuard® Aluminum Single Hung Impact Window Installation
SKU: SH7700A
Just like you, even your house needs to doll up sometimes! And the best way to do that is by giving your house these super adorable yet classy looking Winguard Aluminium Single Hung Windows. This window comes with the durable design yet unbeatable good-looks. Windows are an integral part of our house. Imagine sitting next to a gorgeous looking window with a mug of coffee in the wintry mornings. Resting on the armchair with a nice novel and peeping at the moon through those crystal clear glasses. Staring at the raindrops that rest on the surface of a stunning window pane. Such a beautiful sight it would be right! Our Winguard Aluminum Single Hung Window will be your perfect partner in creating these blissful sites for your family. What's special about this window is that it comes with a contemporary design that includes a sleek framework, integrated locks, and equal glass sight lines which helps in maximizing your view. This window in particular features some of the largest sizes and strengths in the industry. Winguard Aluminium Single Hung Windows come with a movable bottom sash that slides open vertically. It has a pre-tensioned spiral balance system that provides smooth opening and closing, Integrated Lift rails, and deluxe swivel locks which facilitates easy fingertip operation. Winguard Aluminium Single Hung Window comes in different configurations including Radius and Half Radius top, Proview/oriel, and Custom sashes. Windows come with a standard screen and impact-resistant laminated glass Options.
Options & Accessories
Configurations
Half Radius Top and Half Arch Top available Custom Sashes available for Proview/Oriel Sash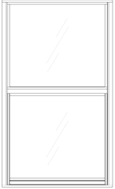 Proview (Aluminum)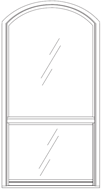 Radius (Aluminum)
Frame Colors

White

Bronze

Clear Anodized
(Standard)
Custom frame colors are also available. Color swatches are for reference only. Ask your dealer about final color matching.
Product Option
Glass Options
Impact Resistant laminated Glass
Thermal Enhancements
Argon Gas
High-Performance Low-E
Screen Types
1816 Charcoal or Gray
BetterVue
Premium Glass Options
Tempered Glass
Privacy Glass
Grid Features
Raised / Flat Grid
1" wide raised muntin applied to the exterior
1" wide flat bar applied to interior
Flat Grid (GBG)
9/16" wide flat grid between the glass
Grid Options
Window Grid Styles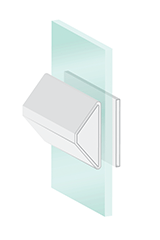 Raised / Flat Grid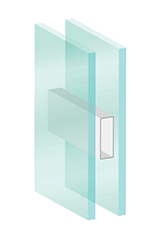 Flat Grid (GBG)